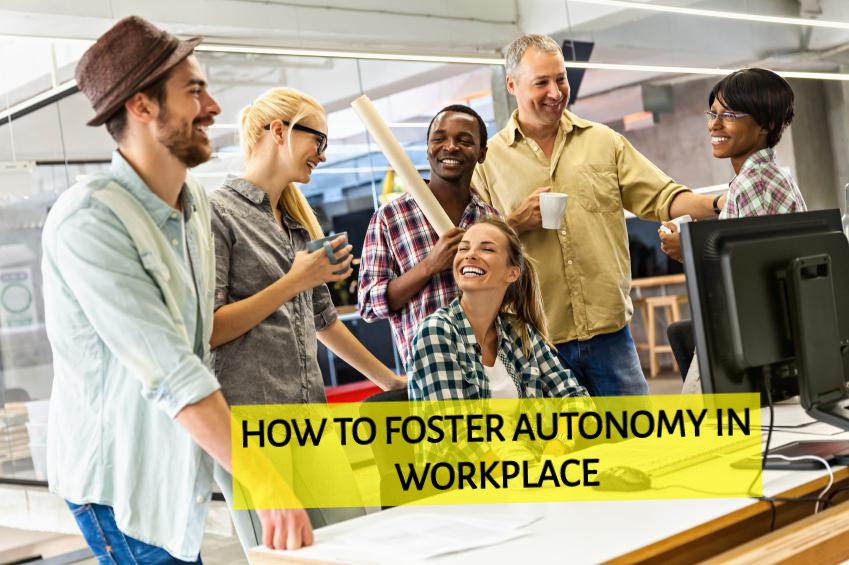 Autonomy is essential in building employee engagement.
Without it, your workforce may become the "land of the working dead," where the will be aimless zombie roaming around the office waiting to be told what to do next.
Not an enjoyable workplace for employees nor management, by any stretch.
Related: Here's How You Can Work Hard Play Hard and Get Amazing Results!
I mean who wants to be told what to do at every turn, and be the one babysitting?
Perhaps there are the few that fit into both of these categories, but that does not mirror a good employee or management. That's where effective autonomy comes into play.
---
What is Autonomy?
There are many definitions of autonomy, simply said, autonomy is the power to shape your work environment in ways that allow you to perform at your best.
Autonomy is NOT:
Working in isolation- Being autonomous doesn't give a person the right to work without supervision or collaboration.
Doing whatever you like whenever you like- The employer defines the boundaries creating an environment in which the employee can choose how autonomous he or she wishes to be.
Working without a direction- In a well-run organization, autonomous employees receive strong, clear from the management.
In an autonomous organization, it's what gets done that matters, with less concern for how it gets done.
Related: 4 Types of Co- Worker: Which One is You and How to Deal the Rest?
The bottom-line benefit to both employees and organizations is that workers are free to make more choices, more committed to their jobs, are more productive and less likely to leave.
It's only dysfunctional organizations that employees are left to figure out their jobs with little or no input from management. That's not autonomy; that's lack of leadership.
---
Here are the 6 ways to encourage autonomy with your employees:
1. Allow to Learn from Mistakes.
Management that is destructively critical when mistakes are made kill initiative and, consequently, employee engagement.
If organizations aim to grow, it's essential they be full of people engaged with initiative. This doesn't come when people work in fear.
Mistake will help so calm down and find way to ensure the same mistake is not repeated.
2. Hire Autonomous People.
Some people, although a minority, simply don't chose to be autonomous.
So hire the team who can naturally engage, provide them what they need to do their jobs well, then get out of the way.
Doing so, encourages employees to take risks and try new ideas.
Related: Why DO MILLENNIALS Change Jobs So Often and How To Keep Them?
3. Build Trust.
Without trust, autonomy is impossible. When trust is present, it sends employees the message that they are in command of their time, effort and reward.
Related: The Best 4 Ways to Build Trust In a Team.
It's a two-way process. As an employee, must trust the management and the management must trust the employee.
An interesting finding from a survey that when an employee feels that she/he is trusted by her manager, she/he is far more likely to be engaged than when that trust isn't present.
4. Create Choice Within Boundaries.
The freedom of choice is a key element to autonomy, but too much choice can be detrimental.
That's why those who think autonomy means there are no boundaries are in error.
Related: 7 Tips to Help Strengthen Employee Bond.
In fact, firm boundaries and a system to hold people accountable for results are essential for autonomy to flourish.
Within clear boundaries, people are empowered to determine how they will accomplish the tasks they are given.
5. Provide Tools to Reach Goals.
Give your employees the tools and resources they need to reach your goals and theirs.
Training, technology, new face whatever it takes. Again, this is about trust, saying, "I'm willing to invest in you and your ideas because I believe you'll make it worthwhile."
Related: The Best and Most Practical Way to Increase Transparency Across Organization.
---
More Freedom Leads to More Growth and Success
Now, get out of the way and let people do their thing.
If you hire people who want to give 110% and put them in an 85% environment, you'll do your organization greater harm than by hiring 85 percenters in the first place.
Grant autonomy and be prepared to follow through. Keep in mind, taking away autonomy once you've granted it is a surefire employee engagement killer.
Related: The Ultimate Goal Setting Method You Need To Reach Your 2019 Goal!
---
To learn more autonomy model, check out our main page. We are committed to empower people with the right financial education, knowledge and proven skills in order for individuals to attain financial freedom.
Do you think giving more freedom to employees will open up more room for self-growth and creativity? or the idea of working with no boundaries with decrease discipline and committed?
Let us know your thoughts in the comment section below. Also, do like, follow and share my blog for more interesting articles, updates and news stories.