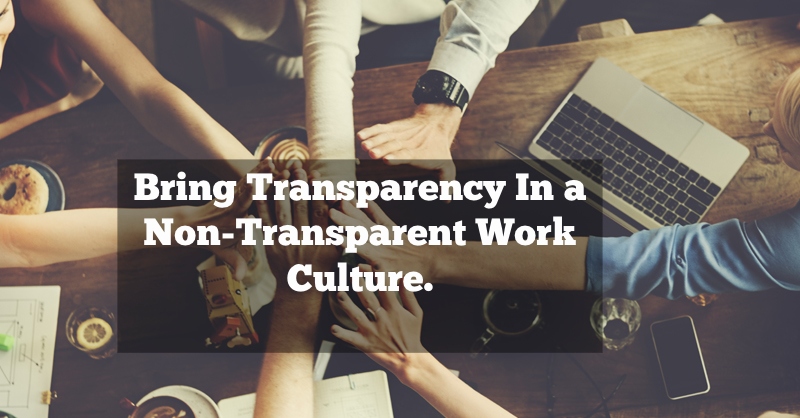 Have you ever experienced following situations in your company:
Searching for information or trying to find a responsible person usually takes longer than 10 minutes.
You are waiting for an email reply for a long time to be able to continue working on your task.
You often search for the necessary documents in email attachments.
You feel irritated with obscure instructions and unclear project objectives.
You are very displeased with the quality of your colleagues work on their part of the project.
It's really difficult to find a responsible person for a particular task.
Then most likely your organization have problems with work process and the only feasible option to improve it is to build a culture of transparency.
Also read: 5 Ways to Encourage Autonomy for An Enjoyable Workplace.
Transparency, it sounds great when it rolls off your tongue but it's much harder to actually do transparency in the day-to-day grind of business, especially online business.
---
So, Here's The Best Method to Bring Transparency In a Non-Transparent Work Culture.
Objectives and Key Results (OKR)
OKR is a goal setting method for defining and tracking objectives and their outcomes.
Also read: The Ultimate Goal Setting Method You Need To Reach Your 2019 Goal!

Its main goal is to connect the company's, team's and personal objectives to measurable results, making people move together in the right direction.
---
What does an OKR really do?
OKR creates focus and prioritization. It align team effort and makes sure everybody is working toward the same goal.
Objectives are goals. They tell you where to go. Each objective has a few Key Results which are the measurable metrics that indicates how you will get there.
Also read: The Best 4 Ways to Build Trust In a Team.
Your objectives are often the mission from your personal or business priority.
Your priority is a long term view from which, you derive your annual objectives. Annual objectives split into quaternary objectives.
---
OKR has four simple rules:
Set them quarterly- 3 months is the timeframe in which you really can achieve something.
Don't have too many objectives and key results- Usually, 3-5 objectives are fair enough.
Make them challenging -Companies who set challenging targets to achieve more.
Key Result should be a number -Numbers enable objective evaluation and create a learning process.


[adinserter block="22″]
---
How OKR can help increase transparency?
Big part of OKRs is making sure that each individual knows what's expected of them at work.

Let's imagine that we set a goal — to boost awareness and visibility of our product in social media platforms.
In such case we will have following OKRs:
For a company
Objective: Increase brand awareness.
KR 1: Run a Facebook campaign from March 1 to May 1
KR 2: Extend coverage in social networks for English and Chinese languages
For a marketing department
Objective: Enhance the involvement in the social networks by 35%.
KR 1: Determine the three most popular social site in the market and develop a strategy for customer attraction by May 1.
KR 2: Responding to comments on Facebook for 3 hours.
KR 3: Increase the number of Facebook subscribers by 20%.
Also read: Here's How You Can Work Hard Play Hard and Get Amazing Results!

For a marketing manager
Objective: Increase the number of interactions in social networks 25%.
KR 1: Join 5 industry groups in LinkedIn with at least 2,500 participants and leave comments on 10 of the most popular discussions in each group.
KR 2: Get 1500 subscribers in Facebook, publishing 12 articles and 1 promotion each week.
You can see that the OKRs are linked to each other — from the big company picture to the priorities of the department and the participation of each team member.

Typically, each level has no more than 5 goals and 4 key results. OKR should be measurable and always publicly available.
Everyone in the company should be able to see the goals and objectives of everyone — from the CEO to the regular specialist.
---
How to Measure OKR?
It also assumes that the employee should set an assessment of 0 (not even close) to 1 (all met or exceeded) for each KR.
Also read: 4 Types of Co- Worker: Which One is You and How to Deal the Rest?
The normal outcome in the 0.6–0.7. If you constantly score > 0.7, your OKRs is not challenging enough and you should set more ambitious targets for the next quarter.
Here's a graph to help you understand better:
---
Transparency should be exciting, not scary.
Pretty simple rules at the same time, if you ignore them — you increase the risk of project failure.
Try to take them into account but do not forget to notify your employees) and track the results.
Also read: 7 Tips to Help Strengthen Employee Bond.
You'll be surprised to see that the transparency of your work processes will increase.
Transparency doesn't just make good ethical sense; it makes good business sense, too. It produces trust.
Coming to a place as an organization where you are ready to embrace transparency is liberating.
It means that you are no longer operating out of fear, and instead, you're actively making choices that are right for you as a unique organization.
---
Have you ever been in a professional situation where transparency could have completely transformed a situation? Share your story at the comment sections below.
We at WMA are committed to empowering people with the right financial education, knowledge and proven skills in order for individuals to attain financial freedom.
Check out our Autonomy Business Model (ABM) the powerful tool to shape your work environment in ways that allow you to perform at your best.
Autonomy leads to transparency that allows workers to free to make their own commitments and choices and express their opinions.
To learn more autonomy model, check out our main page. Also, gives us a thumbs up if you like the article and feel free to share and follow my blog for more for more updates, stories and similar articles.